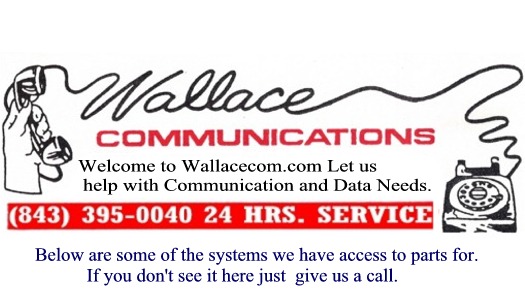 Telecommunications :

ASUZI, ATLAS, AT&T, BITRONICS, COHORT, COMDIAL, CORTELCO,
DELTA, EAGLE, EXECUTONE, EXTROM, FOCUS, GALAXY,
HARRIS, ISOETEC, INTERTEL, ITT, IWATSU/OMEGA, KANDA,
LUCENT, MACROTEL, MERIDIAN, MITEL, NEC, NITSUKO, NORSTAR,
NORTHCOM, OPUS, OKI, TELECOM, PANASONIC, PROSTAR, SPRINT,
SIEMENS, STARPLUS, S.W.BELL, TELECONNECT, TELRAD, TIE,
TOSHIBA, TELPLUS, TRILLIUM, VODAVI, WALKER, and More........
At Wallace Communications we have access to what's needed to Service a large variety of Business Telephones and the Key Systems than run them. If your Systems not listed here we can probably still find what you need. Just give of a Call.